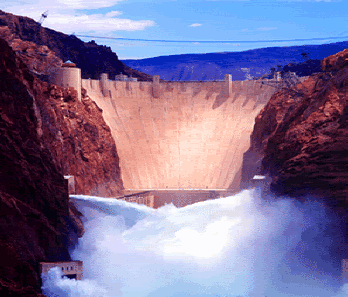 The Hoover Dam was completed on May 29,
1935
, at least that's what
wikipedia
says when you google "May 29" - I didn't make it up!  I don't even know how to
make things up
!  Anyways, there were apparently 112
deaths
, 3
births
, and a
great depression
while making the dam, originally called the Boulder Dam, or "
over-the-shoulder-boulder-holder
dam" by all the
construction workers
(100% plausible).  On one side of the dam is
Arizona
, and on the other is
Nevada
.  The architects and engineers thought it would be cool to put some
freaky gothic statues
on the facade of the dam for effect.  I went there once when I was a child and mom almost fell over the side of the
concrete barrier
while taking a picture.  There's much more to say about this dam, but I think you aren't really reading this to learn about dams, and you just want some of THIS: